"The Ho" (13)
Fourth Trip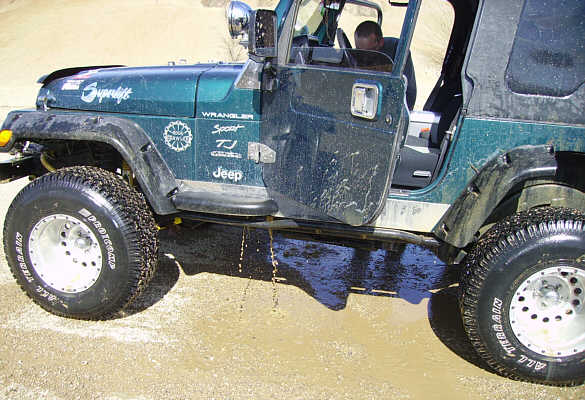 The water draining out of Dave's Jeep
"The Ho" was in pretty much the same state
Notice the wrecked mud guard that Dave managed to break earlier.
The worst thing about the trip was that it was around this time that Dave checked his transmission fluid and found it was pink due to being emulsified with water. We checked "The Ho's" but found it was still OK, but it was the end of the day for our off-roading. Dave would have fried his transmission if he'd driven it with the contaminated transmission fluid. We drove to a nearby supermarket and bought 10qts of transmission fluid and changed it in their car park.
Dave and Andy inspect the transmission fluid
The fluid was very pink when we looked at it again and so it had to be towed back to Terre Haute behind Andy's GMC K3500 and I drove "The Ho" back pulling the dolly that it was towed up on. We've no idea where the water is getting into the transmission but it's bound to be expensive to repair.
That evening Andy and I headed south for Jasonville where a band we knew was playing. Not only that, but the lead guitarist, Jeff, is also the bar owner. He also stocks cans of Icehouse - our beer of choice as it's 5.5% alcohol, cheaper than most and tastes great.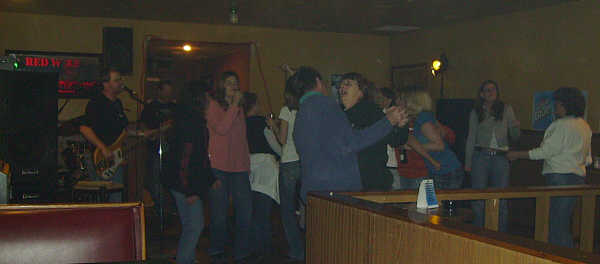 Patty and I dancing
Scott is the lead vocalist and bass player with the band
Andy and I both got absolutely shitfaced. A good job Patty, my wife, volunteered to drive us both home. A perfect day, great off-roading and then plenty of beer.
More Plans
"The Ho" behaved very well at Attica Badlands but the next evening and sober Andy and I sat down and decided what we need to do to "The Ho"...
1) Front Sway Bars - take these off, this should give better articulation
2) Rear Bumper and Hitch - take these off and replace with a steel bumper like we did to the front. The hitch is to be welded to the new rear bumper. We've already got the steel for this as I bought two when I bought the one for the front bumper.
3) Air Intake - try and put in a better position to lessen the risk of it sucking in water
4) Rear Suspension - do a "spring over" so the springs sit on top of the axle and not underneath it. Should give us around 5" of rear height
5) Brakes - these are getting a bit spongey, hopefully the lines just need bleeding otherwise we might have to replace the calipers - around $45 each
6) Front Springs - to give more lift to the front we should add spring spacers - but this might mean replacing the brake lines and shock absorbers - around $100 a set for the spacers, $75 for new front shock absorbers, about $90 for longer brake hoses.
7) Carpets - they've got to come out they are getting to wet, take ages to dry out and will go rotten. I think I may paint the floor of the car with some sort of skid-proof paint.
8) Some sort of wide angle lights for night driving
9) Ties for the tote boxes in the back with the tools, fire extinguisher, first aid kit and spare fluids in them. They are getting heavy and a good very sudden stop and someone's going to get the back of their head smashed in as one of these things comes flying forwards through the car.
10) Find out why the power steering is leaking fluid
11) Replace the drivers side valve cover as it's leaking oil
Other stuff I'd like to have and/or fix...
The driver's door sags
Rear window wiper doesn't work
Electric winch capable of at least 8,000lb drag - these cost around $400
Ancillaries
Off-roading is very hard on the vehicles and there are several things that need to be coped with. The vehicle can become stuck and need recovering, something may break and of course there is always the risk of injury to the participants. Here's what Jim Allen in the article "Cosmic Insurance" on the "Off-Road Adventures" site suggests is needed...
Standard Kit
Inflated, serviceable spare tire that matches tires on ground.
Duct tape.
A selection of spare fuses, at least two of every size used in your vehicle.
At least one gallon of water over and above basic human needs.
Assortment of zip-ties, from tiny to huge.
Water pump, power steering, and alternator belts.
Radiator stop-leak, heavy duty.
WD-40 for frozen bolts and drying out wet electrical systems.
One quart motor oil, one quart auto trans fluid (also can be used in power steering), one pint brake fluid. Substitute one quart 90wt gear oil for ATF, in squirt type bottle, on manual-trans vehicles, but add one pint power steering oil. Motor oil can be used in place of 90 wt in an emergency.
One spare spark plug (if applicable), one spare plug wire long enough to work on any cylinder, points and condenser (if applicable), distributor cap and rotor (if applicable).
15 feet of 10-gauge wire (this wire is large enough to work nearly any circuit) and a few shorter lengths of smaller wire. A selection of crimp-on electrical connectors, 18 to 10 gauge.
Roll of baling wire and small roll of plumber's tape.
Rags or HD paper towels.
Hand cleaner.
Tube of hi-temp silicone sealer.
Loctite thread restorer.
Small can of wheel bearing grease.
Extra tire valve cores, caps, and at least one new valve stem.
Spare set of keys.
Small can of miscellaneous hardware, including nuts and bolts, screws, washers, hose clamps, cotter keys, etc.
Quick-set epoxy (JB Weld).
Fuel-tank repair kit (epoxy type). Can be used on oil pans, trans cases, etc., with some extra prep.
Heavy Duty Kit, as Standard Kit plus...
A tire plugging and/or patch kit and at least one inner tube so that a damaged tire can still be made to hold air. Extra valve stems. Several extra lug nuts and wheel studs.
An extra fuel filter.
Brake cleaner spray.
Hose repair sleeves to fit your hoses. Hose clamps.
Spare locking hub (used okay).
Spare front axle u-joint or CV joint.
Gasket making paper.
Fuel line hose and clamps.
Extreme Kit, as Heavy Duty Kit plus...
Three quarts 90wt (in squirt bottles), three quarts ATF, three quarts motor oil.
For fuel-injected gasoline engines, spare control unit, spare fuel pump, and necessary installation pieces.
Carbureted gasoline engine, carburetor gasket set, needle and seat and spare float. Spare mechanical fuel pump or repair kit (low pressure electric in-line pump acceptable substitute).
Electronic ignition module and/or coil.
Wheel bearings. One each inner and outer, front and rear axles. Include one spindle bearing, axle seals, hub seals, and knuckle seals.
Starter or repair kit (mostly for manual-trans rigs that regularly start in gear).
Manual trans vehicles, repair kits for hydraulic clutch, or spare clutch cable.
Spare rear-axle shaft, one or both. If offset axle, short shaft is most likely to break first. If c-clip axle, spare c-clip(s).
Spare spider and side gears, shims, cross-shaft, and lock-pin (if applicable).
Diff cover gasket.
Complete spare front axles, both (delete spare u-joint). Alternate, one outer stub shaft and spare u-joint (usually the first to break and fits both sides).
ARB Air locker air-hose fittings, solenoid valve, and air hose (if equipped with ARB).
Larger selection of nuts, bolts, and hardware. Include specialty items, like extra spindle nuts, shock bolts, spring bolts, driveshaft u-joint bolts and straps, fill plugs, engine drain plug, tie rod nuts, etc.
Spare tie rod, w/ ends. Spare drag link with ends.
Spare driveshaft (most vulnerable one). Alternate or additional, spare universal joints, one of each type. Include bolts, caps, or straps (as needed).
Anything vulnerable or that has broken more than once (time for an upgrade?).
Standard Tools
Service manual.
A jack large enough to lift a fully loaded vehicle to change a tire. Make sure it has the reach to lift a rig if it has big tires. Include a one-by-one-foot three-quarter-inch plywood base for the jack to prevent from sinking into soft ground. Also include wheel blocks or determine if something in the existing kit will do the same job. Scrap those short, wimpy lug wrenches and buy one with leverage (or use a breaker bar and socket).
Two flashlights-one small for the glove box, and a large one for working. A 12-volt light with a long cord that connects to the battery is ideal as a work light.
Work gloves to avoid cut hands.
Three-pound sledgehammer for "persuasion."
Eight- or 12-ounce ball-peen hammer.
Combination wrenches, quarter- to one-inch (or metric, eight to 24 mm). Add or delete as necessary to cover vehicle's specific sizes.
Tubing wrench(es) (if applicable) to fit tricky fittings on a rig.
Socket set in three-eighth drive with six-point sockets as listed for wrenches, spark plug socket, 12-, six-, and three-inch extensions, swivel and long-handled ratchet. Optionally, a half-inch drive socket set could be substituted or a few of the larger sizes could be included with a breaker bar for those big, tight bolts.
Allen wrench set (if applicable).
Torx bit set (if applicable).
Test light for electrical circuits.
Wire cutters and/or combination wire cutter/stripper/crimper.
Pliers, combination and needle-nose.
Large channel locks.
Vice grips, small and large.
Wire terminal crimping tool.
Large adjustable wrench, 12 inches or better.
Small, medium, and large punches, center punch and a cold chisel.
Screwdrivers, large, medium, and small in standard and Phillips.
Hacksaw and extra blades.
Crowbar or prybar.
A spindle nut wrench to fit front axle and/or rear full-float rear axle (if applicable), with appropriate adapters to fit ratchet or breaker bar.
Files, including a good-size bastard file (coarse) and a couple of smaller, less coarse ones.
A siphon hose and funnel (suitable for ATF fill).
Jumper cables and/or jumper battery box.
Tire-pressure gauge.
Valve core removing tool.
Scissors and or utility razor blade/Exacto knife.
Air transfer hose.
Any specialty tools applicable to minor repairs on a particular rig.
Heavy Duty Tools, as Standard Tools plus...
12-volt air compressor, portable or hard-mounted, suitable for tires. Chassis-mounted air tank a good option.
Battery powered or hand drill with a selection of bits.
One large and two small C-clamps.
Assorted wood blocks, 2x4, 4x4, etc.
Tire breakdown tools, including bead breaker and "spoon" bar.
Large pipe wrench.
Torque wrench.
Small grease gun w/cartridges.
Underhood welder, w/ welding mask, rod, etc. (optional, but useful).
U-joint installation tool (easier for novice wrenchers, but not necessary for experienced).
Any specialty tools applicable for likely repairs on a particular rig.
First Aid Kit
Pain...
Aspirin
Ibuprofen
Stomach...
Antidiarrheals (Imodium, Pepto Bismol, etc.)
Antacids (Tagamet)
Ipecac (to induce vomiting)
Antiseptic
Alcohol swabs
Alcohol (liquid, in plastic bottle)
Hydrogen peroxide
Bandages
Selection of Band-Aids
Sterile pads, nonstick (Telfa)
assorted sizes...
Tape
Sterile gauze roll
Steristrips (for closing wounds)
Large sterile dressings
Tools...
Fine tweezers
Scissors
Splint (inflatable)
Cervical collar
Cold pack (for sprains and burns)
Face shield or mask (for rescue breathing)
Compact first-aid manual
Tourniquet
Sterile latex gloves
Sturdy case for first-aid kit
Skin...
Sunblock
Calamine lotion
Hand cleaner
Oak & Ivy Armor (for appropriate areas)
Hydrocortisone creme
Antibacterial ointment
Sterile latex gloves
That is a lot of stuff to carry, but it was designed for extended off-roading. As we're mostly day trippers we carry a cut down set of tools and equipment...
Standard but comprehensive first aid kit
Fire Extinguisher
3/8" socket set - imperial and metric sizes
Workshop towels and rags
Duck tape
Torch
50/50 antifreeze and water, 1 gallon
Engine oil, 1 gallon, 5W-30
Gear oil, 1 gallon, 85W-140
Transmission fluid, 1 gallon, Mercon-V
Brake fluid, 1/2 gallon, DOT-3
Power steering fluid, 1/2 gallon, Type F transmission fluid
Fuel filter
Fan Belt
1,500lb hand winch
Towing hitch with ball, Class III - can handle up to 5,000lbs. Gross Trailer Weight and 500lbs. tongue weight - now welded to the new rear bumper
Recovery strap, 20ft, 11,000lb
D shackles
This page created 20th March 2006, last modified 24th March 2006