"The Ho" (15)
Carpets
The same day as the new bumper was added the carpeting was also removed. It was still soaking wet from the trip to Attica Badlands and would have gone mouldy and start to smell.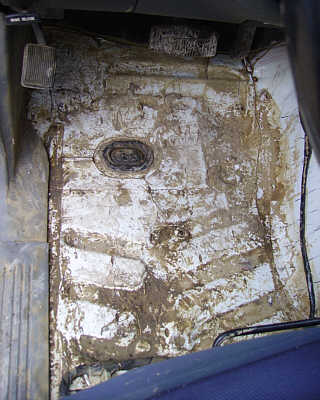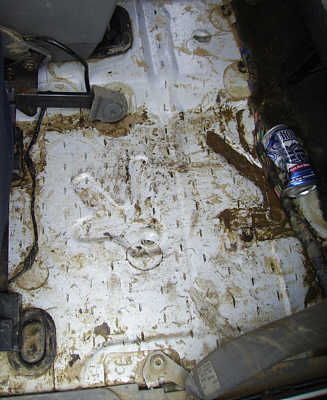 Without the carpets, this mess can actually dry out now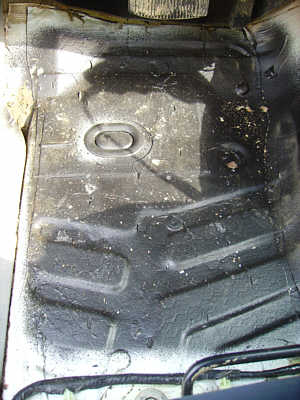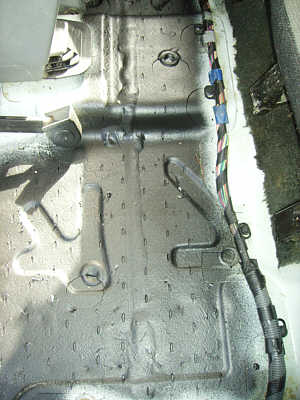 The interior floor after washing and painting with Dupli-Color's Truck Bed Coating ($6, Advance)
Fifth Trip
After removing the carpets and adding the new rear bumper on 23rd March 2006, it simply had to test "The Ho" to make sure it was still off-roadworthy. The closest place to do this was Coal Creek. The previous week we'd had a lot of rain and some snow and Coal Creek was a lot boggier than we'd have liked. The problem was that many places along the creek are inaccessible to vehicles a bit larger than "The Ho" and as we were wheelin' on our own didn't want to get bogged down and so we kept out of the worst places . "The Ho" once again did the business and we had another good, but short, trip. What ended it a bit prematurely was that the "check engine" light came on for about five minutes then went out, as the other gauges were reading normal we carried on. A couple of minutes after that the engine oil pressure gauge would drop to zero whilst idling. Oddly enough, as soon as the engine was revved the pressure returned to normal. The oil level appeared normal but to be safe we added another 1/2 gallon and decided to take "The Ho" home. Dave was very upbeat about the problem, as he said "At least we're not stuck or upside-down."
Oil Pressure Sender Unit
When we got back home I did a search of the internet for why the engine oil pressure gauge would drop to zero whilst idling.. Nearly every site I visited about this problem says that it's the oil pressure sender unit. This is apparently an idiot switch and either reads zero or normal, it does not give a true oil pressure reading. It's probably no big deal but we think we're gong to replace the sender unit and see if that fixes it. A new oil pressure sender unit costs around $11 from Advance and the new one started off doing the same as the old one but then worked properly. We think what is happening is that the oil pressure sometimes dips just below the threshold for the idiot unit to read as "normal" and so it shows "zero". As the engine temperature is pretty stable and we know we've plenty of oil we've decided to let this go at the moment.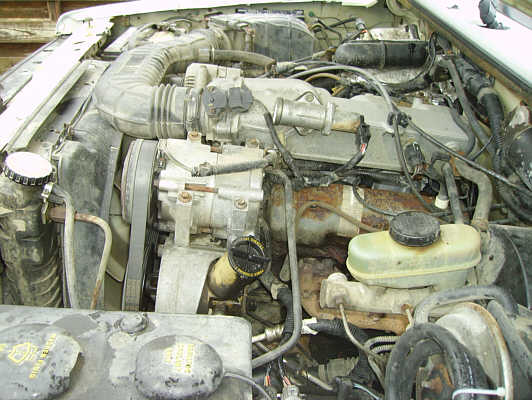 Engine from the drivers side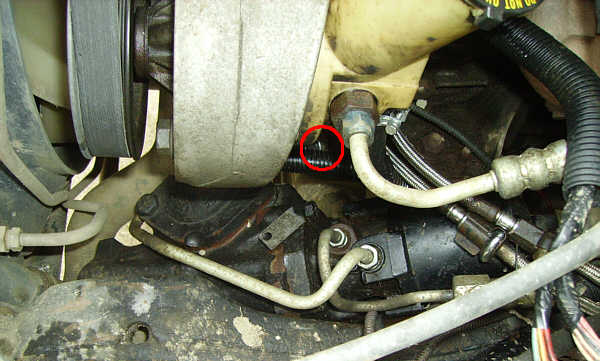 Oil pressure sender unit
This page created 26th March 2006, last modified 26th March 2006