"The Ho" (16)
Rear Light Cluster
We also noticed that I'd smashed the passenger side rear light cluster lenses sometime during our evening out on 23rd march 2006. How this could have possibly occurred is a mystery to us all! Things like that I'll look around the scrapyards for one rather than buy new. I thought these things would be relatively easy to get but it turns out the only difference between the Ford Explorer and Mazda Navajo was the front grill and the rear lights. It seems that only the style was changed though. The same lenses will fit any Mazda Navajo from 1991 to 1995. The difference between the Ford Explorer and Mazda Navajo is that the Ford has three lens areas and the Mazda only has two, but the fittings are the same.
A quick look on eBay and showed that people selling used Mazda Navajo rear lights were asking around $30 including postage each, one guy even wanted $60 for one. Until I can get one locally from a scrapyard I decided to try and tidy-up the broken one. Walmart sells coloured plastic vinyl document covers for 92c so I bought one and cobbled together something that looks like it might work...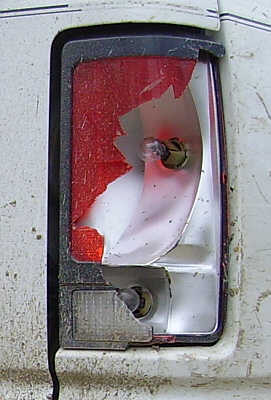 Smashed rear lights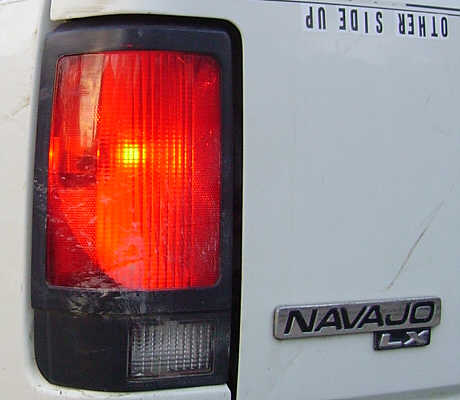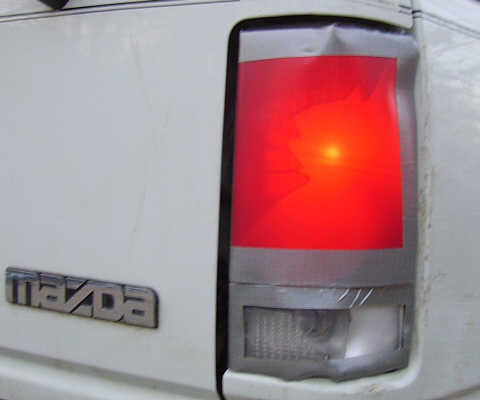 The intact drivers side and the temporary repair to the passenger side rear light
I'm so pleased with this repair I can hardly wait to smash in the other side so we can have a matching set.
That didn't take too long to happen because on 8th April I smashed the driver's side taillight...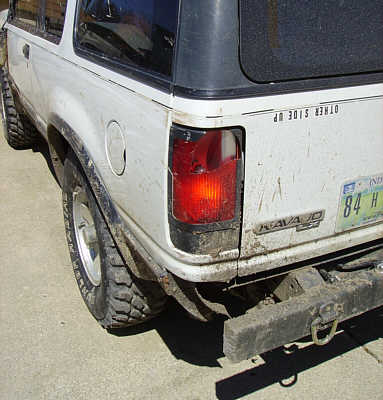 Damaged driver's side tailight
A couple of days later, on 10th April, I totally destroyed it...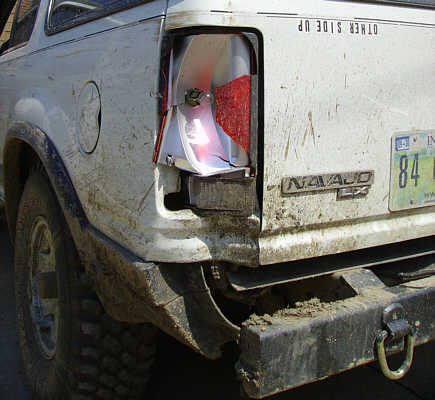 Even more damaged driver's side tailight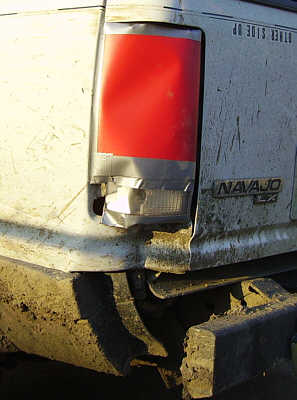 Driver's side rear taillight repair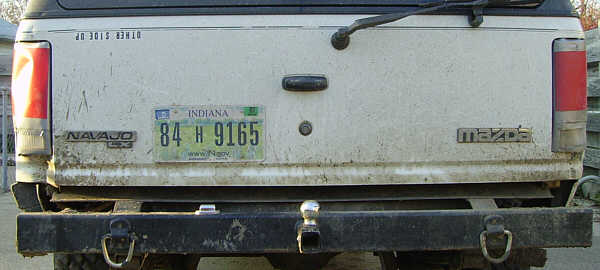 Customized rear taillights
The envy of the entire Wabash Valley region
Total cost of repair $1.84 and some duck tape
Sixth Trip
After replacing the oil pressure sender unit and bleeding the brakes on 24th March 2006, it was back to Coal Creek to reassure ourselves that "The Ho" was in tip top condition. Coal Creek was in an even muddier state than the night before. "The Ho" coped very well but some of the hills were just too slippery for it. There was an unsettling moment when I thought I was going to slide off a hill sideways which would probably have wrecked "The Ho" but everything turned out OK. A good job I didn't turn the it over as we were in a rather inaccessible spot and we probably would have had to abandon it for the night and it more than likely would have been picked clean by the time we got back to rescue it - if we could get it out at all.
Rear Windscreen Wiper
This has never worked since I bought the car and so on 28th March 2006, we took it out to examine it. The motor was completely seized up and as a new one costs around $160 we decided we could live without it.
Winch
I bought a new MileMarker PE 8000 winch for $400 from eBay and on 29th March 1006, it was fitted to "The Ho".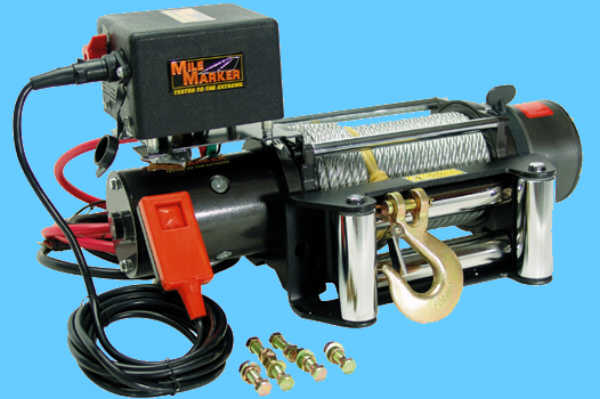 MileMarker PE8000 Winch
The Specifications of this winch are:-
Planetary gear system for fast line speed. Automatic load holding brake. Free spooling. Power in and power out.

Part Number: 76-50140
Rated line pull (single line): 8,000 lbs. (3,629 kgs.)
Gear Reduction ratio: 210:1
Motor: Permanent magnet 4.1hp (3kw), 12v, 24 v
Drum Size: Diameter/Length: 2.5 in (63 mm) x 9 in (228 mm)
Cable: Min break force: 9,800 lbs. 5/16" (7.94 mm) x 100' (30.5m) galvanized aircraft cable with replaceable hook.
Overall Dimension (LxWxH): 22 in x 6.22 in x 7.283 in (558.8 mm x 158 mm x 18.5 mm)
Net Weight: 80 lb (36.29 kg)
Mounting bolt pattern: 10 in x 4.5 in (254 mm x 114.3 mm) 4 bolts 3/8"
Performance of 1st Layer Line Pull:-
Line Pull
Line Speed
Motor
lbs.
kgs.
fpm
mpm
12V
0
0
13
3.9
35
2000
907
11
3.3
100
4500
2041
9
2.7
180
6000
2722
6
1.8
230
8000
3629
5
1.5
300
Cable Capacity by Layer :-
Cable Layer
Rated Line Pull
Cable Capacity
lbs.
kgs.
ft
metres
1
8000
3629
15
4.6
2
6335
2874
38
11.6
3
5243
2378
64
19.5
4
4473
2029
95
29
5
3900
1769
100
30.5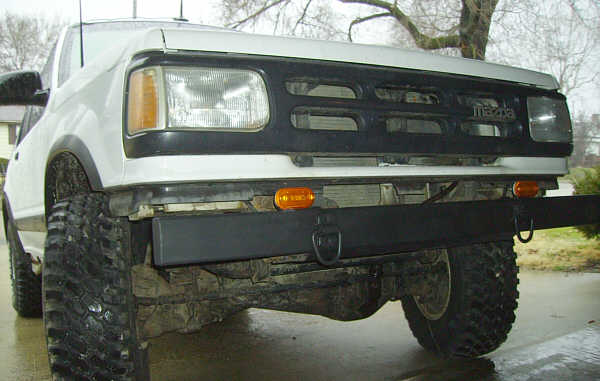 Front bumper before fitting the winch
Two 1/4" thick metal plates, one 21" x 8" and the other 12" x 7" ($30 for both, Kelley Metal Products) were welded at right angles to each other and the winch bolted to the larger one. A cutout was made in the smaller one and the roller fairlead welded to this. Part of the front of "The Ho" was cut out to receive the assembly and the winch assembly welded into place.
This page created 26th March 2006, last modified 15th April 2006